With the cultural exchanges of various countries, giving gifts at Christmas has become a global habit. According to legend, Santa Claus always rides a sleigh pulled by a reindeer on Christmas Eve, happily running around with every household. He climbed into the house from the chimney, leaving Christmas presents for the children, and eating the food the children left for him. This old man, dressed in red, with a white beard and smiling, is the most popular guest at Christmas. In China, Unico Packing is a leading factory to manufacture custom Christmas packaging boxes, with your logo and design colors.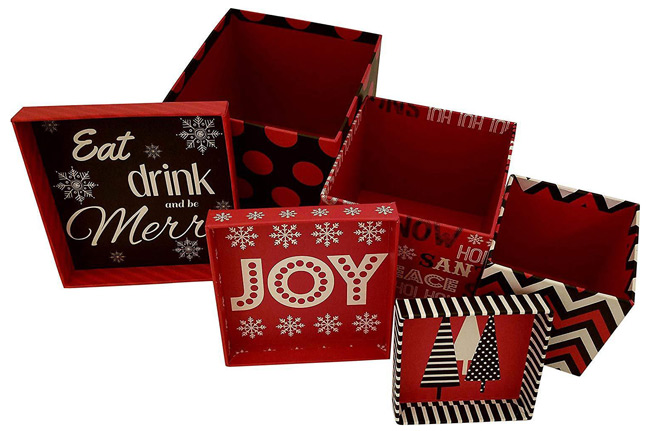 Santa Claus usually likes to put Christmas gifts in socks. So children always prepare Christmas stockings early, a pair of big red socks. Hang Christmas stockings by the head of the bed before going to bed at night. Waiting to receive Christmas gifts the next morning. The adults have prepared Christmas hats, which are red hats. Don't underestimate this hat, it's amazing. It is said that besides wearing it to sleep at night, in addition to a warm and sweet sleep, you will also find Christmas gifts from your beloved in your hat at dawn.
In the West, whether it is a Christian or not, a Christmas tree must be prepared at Christmas to increase the festive atmosphere. Christmas trees are generally made of evergreen trees such as cedar and cypress, which symbolizes the longevity of life. The trees are decorated with colored flowers, stars, lanterns, and toys, and there are all kinds of hanging on them. On Christmas Eve, people sang and danced around the Christmas tree.
Now, people prefer to visit each other during the day and exchange gifts. Adults will prepare gifts for friends and children, and wrap them in Christmas packaging boxes. The children also like this method, more like the joy of opening gifts.
Christmas is very popular in many countries and regions. Westerners believe that the three colors of red, green and white are Christmas colors. Every household will be decorated with Christmas colors when Christmas comes. The red ones have Christmas flowers and Christmas candles. The green one is the Christmas tree, which is the main decoration of Christmas. It is decorated with tower-shaped evergreen trees such as felled fir and cypress. There are colorful lanterns, gifts and paper flowers hanging on it, and Christmas candles are lit. Usually these items are well packed in Christmas packaging boxes.

In Unico, we are able to manufacture the boxes with your logo and design colors printing. If you are looking for any Christmas packaging boxes, please feel free to contact us. Our team would provide you with timely reply and support.