2022 New Design Anniversary Cards Printing Factory in China
A greeting card is a type of card that people greet each other when they meet a festive date or event. Anniversary cards are often used for wedding anniversary events. There are usually some words of blessing on the greeting card. In Unico factory, we can produce the personalised anniversary cards with your design printing. Small MOQ, fast delivery.
Material for
happy anniversary cards
1. white cardboard is much popular for anniversary cards making, usually you can choose its weight of 250gsm, 300gsm, or 350gsm. It's possible to print the design on both sides of the cards. The coating surface is much smooth, and hold the inks tightly.
2. C2S art paper is also widely used for anniversary cards. For its 2 sides with coating, the printing effect is better than that of white cardboard. However, with the same material weight, C2S art paper is little bit soft than white cardboard.
3. kraft paper, there are 2 different styles, one is white kraft paper, the other is natural brown kraft paper. Both are 100% recyclable, eco-friendly.
4. specialty paper like textured paper, gold paper, silver paper, pearl paper, etc. These material can help increase the level of anniversary cards.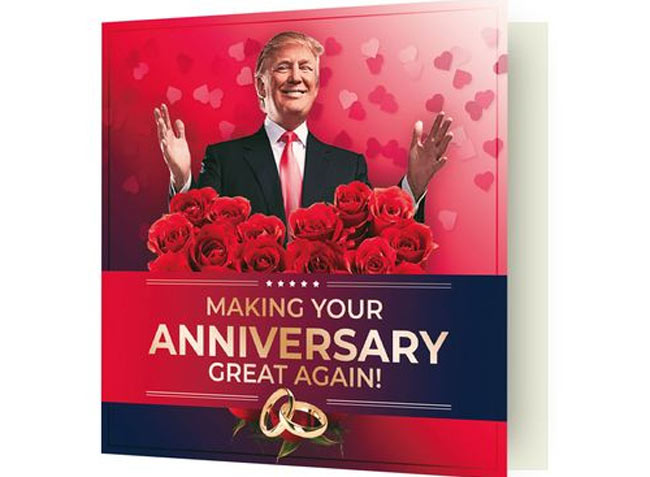 Wedding Anniversary Cards
Wedding anniversary cards are much popular nowaday, because it can help people express thanks, greetings, love, etc. In our factory, we can produce the wedding anniversary cards with gold hot stamping, glossy spot UV varnish, glittering, flocking, 3d style, embossing, etc. If you are looking for personalised anniversary cards, please don't hesitate to contact our service team.
A wedding anniversary is an important day, and it is a moment to commemorate a happy marriage. You who really love, take care of this feeling with your heart. After marriage, anniversary is a very important holiday. You can use a wedding anniversary card to express your love to your wife or husband.
Surface treatment for anniversary greeting cards
1. hot stamping is the most widely used surface disposal for anniversary cards. You can choose to make the letters on the cards with gold hot stamping, or silver, or green, etc. We have many different colors in stock for your choice.
2. glossy spot UV varnish. it helps improve the light of the letters. If the varnish is little bit thicker, you can get a 3d effect texts on the anniversary greeting cards.
3. letters embossed on the surface of the paper material.
In our company, you can choose to create your own personalised anniversary cards. We have hundreds of different styles on the market, and you can choose one to print with your best photo, or image. If you are looking for a card for your girlfriend or boyfriend, a wedding anniversary card or even a card for your parents, we have lots of great designs to choose from.
Furthermore, all of all cards are sent in an envelope. You can write own messages to your anniversary cards. Of course, if you have created own design artwork file, please forward to us for checking to make the cards printing for you.