Chocolate was originally derived from cocoa beans, the fruit of wild cacao trees in tropical rain forests in Central America. More than 1,300 years ago, the Mayan Indians of Yorktan made a drink called chocolate from roasted cocoa beans. Early chocolate was a greasy beverage. Because the roasted cocoa beans contained more than 50% fat, people began to add flour and other starch substances to the beverage to reduce its greasiness. As time goes by, people pay more and more attention to the packaging of chocolate. Custom chocolate boxes are widely used so far.
Specifications of the custom chocolate boxes
1, material 2.0mm thick rigid cardboard + surface 157gsm C2S art paper + inside holder 350gsm gold cardboard.
2, print colors of your logo and design colors in CMYK, Pantone. It's better to send the design artwork file in .ai or PDF.
3, surface treatment matte lamination. The logo is made by gold hot stamping and embossing.
4, box style is 2 pieces setup rigid chocolate gift box, separated lid on the top.
5, there are many options of chocolate packaging boxes, such as 4 pack, 6 pack, 8 pack, 12 pack, etc. Welcome to contact us for more information.
6, sample chocolate gift box in stock is free of charge, and you only need to pay the express shipping cost to your door, usually $35~50. If you want a sample chocolate box printed with your logo and design colors, sample charge is US$100~300. When the amount of the order over $10000, it's possible to refund the sample cost 100%.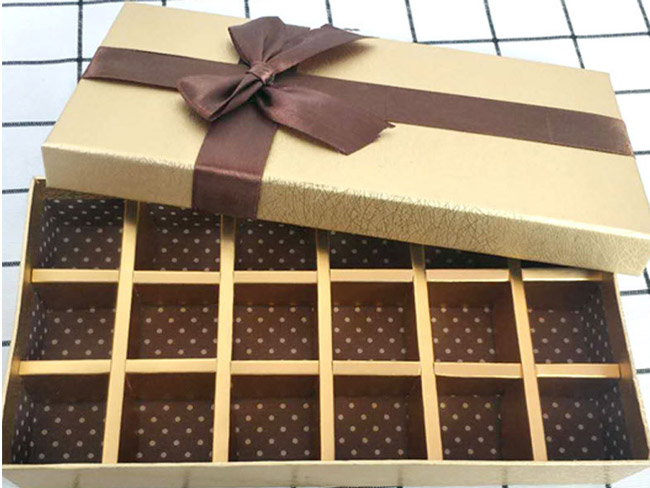 How to store the chocolate?
Chocolate should be stored at room temperature (approximately 18°C). If the packaging is not damaged, it can be stored for several months. The chocolate should be kept away from humidity and high temperature, and stored in a relatively constant temperature environment. The chocolate should be kept away from moisture, otherwise it will cause agglomeration. Chocolate can be stored in the refrigerator or frozen, but this will cause a slightly white film to form on the surface of the chocolate. This is cocoa butter, which will not cause the chocolate to taste bad, and the film will disappear when it is melted. Of course, if you have the origin custom chocolate boxes, please use it to store the chocolate.
If you are looking for custom chocolate boxes packaging, please feel free to contact us. Our service team would get in touch with you fast, and calculate the cost for your reference. Let's work together to make your packaging fantastic.