Custom Print Self-adhesive EVA Stickers for Kids - Die-cut Cartoon EVA Stickers Pack
Custom made self-adhesive EVA stickers pack is a set of artistic and colorful stickers made of Ethylene-Vinyl Acetate (EVA) material. These stickers are designed and produced to meet the specific requirements of customers, such as unique shapes, sizes, and designs. Their adhesive backing makes it easy to apply them to any surface, including paper, plastic, glass, and even textiles. With their versatility, durability, and customizability, EVA stickers packs have become a popular choice for personalizing items or adding a decorative touch to various products. As a top EVA stickers manufacturer in China, we can make your design printing and get fast delivery.

Characters of custom made EVA stickers
1. material: usually 2.0mm various color EVA foam. your requirements can be met in our company.
2. printing with UV inks, eco-friendly and environmetal protection
3. small MOQ, fast delivery
4. various shapes can be die-cut as your design.
5. custom EVA stickers can be packed by plastic bags with paper card hanger card
6. samples in stock are free of charges.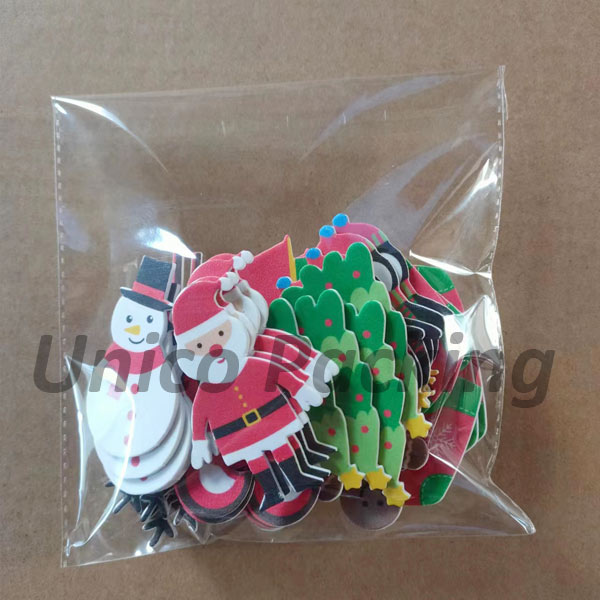 Our team of skilled professionals uses only the highest quality materials and printing techniques to create these stickers, ensuring that they are durable, long-lasting, and easy to apply. We offer a range of customization options, so you can create your own unique design or choose from our extensive selection of pre-made designs.

In our factory, all EVA stickers can be customized with your design printing. Welcome to contact our service team for free quotes and samples. Your message will be replied within 24 hours.