EVA lining means that a certain product is put into this EVA box, and then a package is needed outside. Put the EVA lining into this package. This package can have a metal iron box, a white cardboard box or a carton in. Usually, there are 2 different ways to make the EVA foam insert, one is die cutting, the other is CNC machine engraving.
Today we are talking about the CNC engraving EVA insert. In our factory, the EVA foam packaging lining is made by a CNC computer engraving machine. And it has many advantages compared with the traditional knife mold adhesive process. The engraved custom EVA foam insert is integrated, without adhesive traces, and has a 3D effect. Furthermore, there is no need for molds in the production process. Even when you want to make any changes in the design, there is only need to change the design file, and re-load to the CNC computer machine. This way, there is no extra charges of mold changes.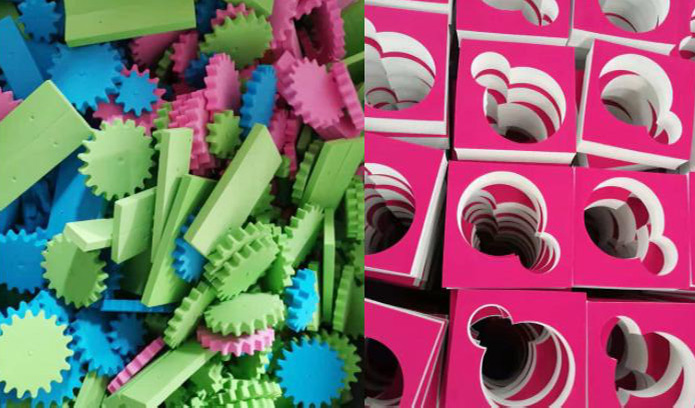 EVA foam lining is soft enough to protect the products inside located. Also EVA material is environmentally friendly, non-toxic and tasteless, high-end apprearance and low overall cost. Finally, it can effectively increase the added value of the packaged products.
For EVA foam material, there are many different colors in stock for your choice. Even if you have own specific color request, it's also possible to customize the color of the material.
To order CNC engraving the EVA foam insert with your custom shape, minimum order quantity is quite small, usually quantity of 5 pieces is acceptable.
In our factory, all customized EVA foam insert can be engraved with your designed shapes. Welcome to contact us for free quotes. Fast delivery, and good price. Our service team would reply to you on time.