Christmas Cardboard Paper Suitcase Gift Box
Paper gift box is a much luxury package in daily life. Usually merchants would like to choose such packaging box to pack their goods of high value. For the one cardboard suitcase box mentioned, it's used to pack gift puzzle sets for children. Such design suitcase box with plastic handle, it makes the box much convenient for children to take the puzzle.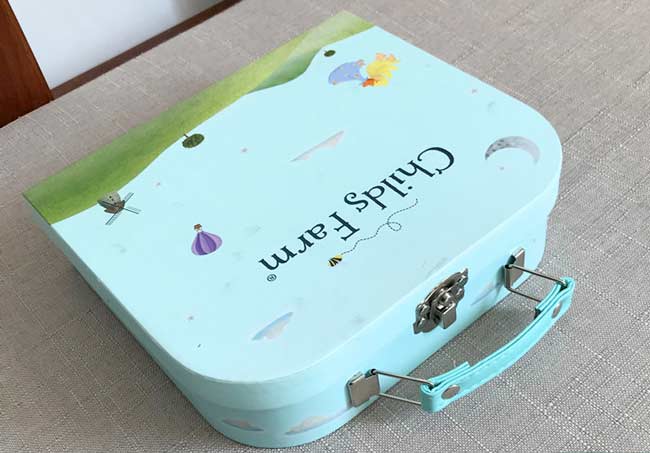 In previous order, such paper suitcase box is made of rigid chipboard in 2.0mm thickness, with surface printing paper 157gsm C2S art paper. Printing artwork is from client designer department, and there is matte lamination to protect the printing inks. Usuaully such lithographic printing is in CMYK format. However this design background is solid blue, so client chose to use Pantone color. This way, during the printing, solid background color is more beautiful, and no gradient ramp. Of course, if your design, you can also choose this style solid color to make your packaging box more luxury.
On the top of the cardboard suitcase box, there is metal lock to close the boxes tightly. Of course, there are some other options, such as elastic band, metal lock, wood lock, etc. If you are interested in other type lock, please feel free to contact our service team, and we will reply you with images for reference. There are many styles on the market. It's certain there is one format which is suitable to your project.
Obviously there is a PU material handle for children to take out the package to his friends. It's good for children to share his puzzles to others. Regarding the paper suitcase box handle, you can also choose other styles. If you have own design, please let us know. We will source the requested handle from associated factory. No problem.
Furthermore, you can also design such suitcase box with Christmas theme. This way it will help people to give gifts easily, and take home conveniently with box handle. Christmas suitcase box is much hot selling in the superstore, and Amazon shops.
Inside the cardboard suitcase box, there is also design artwork printing. However usually such printing design is much simple, only to make the boxes looks more attractive. In the supermarket, your goods with such paper suitcase box packaging, it's certain it would get much great sales. For the surface printing, your design team can draw some dragons, cartoon, animals, etc to attract more eyes.
Unico is a leading company in China to manufacture cardboard suitcase box. And custom design artwork printing is acceptable, which mean your logo and colors can be printed on the suitcase box. No problem. Welcome to contact us for your project, and you will receive a free quote on the same day.