Why EVA Foam Insert So Hot?
EVA foam inserts are widely used in the packaging industry to protect the products inside the packaging boxes.
What is an EVA insert?
EVA foam inserts are used as a protective packaging protector into the packaging boxes. As EVA foam is rigid-soft material, enable to be cut into shapes and stable quality. It jumps out of the most popular and useful foam inserts material. Furthermore, it's easy to be cut or engraved into customer's requested shapes. In our factory, it's possible to die cut the EVA foam material by a mold, and also possible to engrave the EVA foam inserts by CNC computer machine into one piece.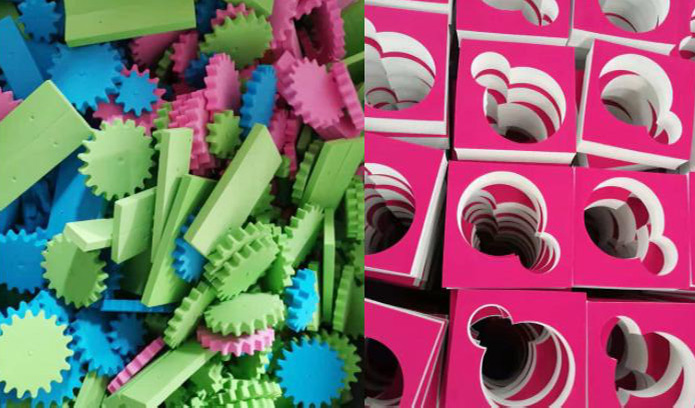 What is EVA foam used for?
EVA is one of the materials popularly known as expanded rubber or foam rubber. EVA foam is used as padding in equipment for various sports such as ski boots, bicycle saddles, hockey pads, boxing and mixed-material-arts gloves and helmets, wakeboard boots, fishing rods, and fishing-reel handles, etc. Custom die cut EVA foam insert is one of them to be used in packaging boxes to protect the products. And it's widely used in the packaging industry.
Is EVA foam good, and sturdy enough?
The EVA foam material characteristically provides good gloss and clarity, remains strong at low-temperatures, retains its resistance to UV radiation and stress-cracking, and possesses hot-melt adhesive waterproof properties.
Since EVA foam is highly durable and sturdy, it is able to withstand strong forces. It is also weather-resistant and is able to withstand some other harmful agents such as fuel oils and chemicals.
Does EVA foam cause cancer?
EVA is considered to be a safe alternative to PVC, as it doesn't require plasticizers like phthlates, and it's BPA free. However, a few years ago it was found that EVA foam contained formamide. Formamide is used to make the foam soft, but it's considered to be carcinogenic and a developmental toxin.
Is EVA safter than PVC?
Which is safer, EVA or PVC? EVA is a safer option than PVC as is considered non-toxic. So when a customer choose the material for insert, they usually like to choose EVA foam insert.
In our factory, all EVA foam inserts can be customized with your requirements. You can provide us with your design file, or ship the products to us to make the design. Our team would offer a great solution to your packaging EVA foam insert request. We will be right here waiting for your message.