Custom Print EE Flute Corrugated Box Packaging Design
Corrugated box is one of the most widely used packaging products. Its flute type include A, C, B, E and their combinations, such as: AB flute, BC flute, BBC flute, etc. There are already finer corrugated F flutes in the market. Among them, double wall EE flute corrugated box is much popular.
As you can see from the image above, EE flute corrugated board is a double wall, 5 layer corrugated board, which is quite similar to BE or BC flute board. They are durable and strong to make the packaging boxes. However, the thickness of them is different. The double wall EE flute board is thinner, which leads to a lot of benefits.
Styles of EE flute corrugated boxes
RSC box style is the most popular one in the market, which is with the full name of Regular Slotted Carton. And RSC refers to FEFCO 0201 box. The advantage of this box style is the low cost, and few materials are wasted during the die cutting process.
This RSC styled box is usually made in one piece with a glued, stitched or taped seam, and their top and bottom flaps can meet in the middle. You can choose to ship them flat, which will help save the shipping freight, and warehouse storage cost. Usually 0201 style cartons are held together with adhesive tapes.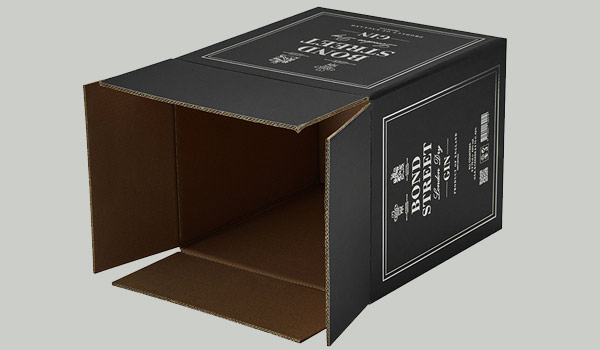 The benefits of EE flute corrugated box
1. compared with double wall BE flute corrugated board, EE flute is thinner, which help reduce the volume of shipping and storage. It directly leads to save the shipping freight, and storage costs. The thickness of EE flute is 3.0~3.5mm, while BE flute is 4.8~5.0mm

2. EE flute double wall, 5-layer board is strong and durable for shipping boxes. To make corrugated mailing boxes, you can choose to use the material of E, or B flute. However, when the products inside are big weight, it's better to use thicker material. BE flute or EE flute is a better choice. It helps make the packaging boxes sturdy to load heavier products.
3. for the printing colors on double wall EE flute corrugated board, the litho printing way is widely used. Because the printing colors in CMYK is much bright, and make the boxes quite attractive. Furthermore, it can accept more color printing. On the surface of EE flute corrugated box, you can add glossy UV varnish to the logo position, and hot stamping or foil print.
Surface finish & treatment
In order to make the EE flute corrugated box more beautiful, there are many different surface finish for your choice.
1. plastic glossy or matte lamination, which helps make the boxes waterproof on the surface.
2. matte or glossy aqueous coating to protect the printing inks.
3. spot UV varnish, hot stamping/ foil print makes the logo more attractive.
As a leading corrugated box manufacturer in China, Unico can produce your customized EE flute corrugated boxes, including the print artwork colors, surface finish, requested size, etc. Contact us for free quotes on your projects. Our service team would reply to you within 24 hours.