2022 Hot Selling Donuts Paper Box on Amazon
A donut is a sweet treat made of flour, sugar, cream and eggs and then deep-fried. The two most common shapes of doughnuts are hollow rings, or closed doughnuts with sweet fillings such as cream and egg paste (generally referring to the liquid made from beaten eggs) in the middle of the dough. With the extension of the epidemic, takeaway doughnuts have become more and more popular. So many stores began to customize donuts paper boxes from China, good price, prompt delivery.
Donuts are still one of the most popular desserts in the United States. It is sold at any pastry shop or fast food restaurant. Everyone from 5-year-olds to 75-year-olds has a consistent love for it. In Asia, doughnuts are mainly eaten as a snack. But in the United States, many people eat doughnuts as a breakfast staple, and even have a "doughnut day".
Today we'd like to list several 2022 hot selling donuts paper box on Amazon.
THE BOX: These pretty white boxes are perfect for keeping all your delicious baked goods safe while on the go. They are great for storing freshly baked donuts, mini cakes, pies, cupcakes, muffins, cookies, chocolate covered fruit, and keeping them away from the mess and from getting dirty.
QUALITY MATERIAL: These boxes are made are made of durable, high-quality SBS paperboard which ensures the box will not break or tear while transporting or selling any of your baked goods. They are sturdy yet lightweight and easy to travel with.
POPUP WINDOW: The unique clear window feature allows others to view your delicacies while still keeping your goodies safe. No more messy hands trying to open the boxes. Now everyone can enjoy the sight of your mouthwatering treats hands-free, and thankfully, mess-free too!
EASY TO ASSEMBLE: These boxes comes folded and have a built in auto popup feature that allows it to fully expand in seconds so assembly is quick and easy with no stress involved. Easy one-piece design for your convenience.

Multi-Purpose: Use the cute donut party favors at an upcoming kids birthday party, baby shower, and gender reveal donut themed party
High Quality: Each donut grow up party favor box is made of quality cardstock paper; simply fold and connect pre-folded tabs to assemble
The Perfect Size: Each Donut Shoppe goodie box measures 6 x 3.3 x 3.6 inches when assembled
What's Included: Includes 24 donut favor boxes to fill with sweet desserts and treats for party guests

SUPER VALUE. Our cupcake boxes set includes 24 boxes of heart themed designs which perfectly matches the passionate season.
EASY TO USE. These pastry containers will proudly showcase your delicious cupcakes, cookies, cakes, pies, chocolate brownies, donuts, truffles, biscuits or candy and will make your desserts even more irresistible.
PREMIUM QUALITY. Our cutie Valentine's day boxes for all are made from durable cardboard for longer usage. This is safe for food storage.
CUSTOMER SATISFACTION. Providing a 100% satisfaction experience is our main priority to our customers. Feel free to message us through "contact sellers" if products don't meet your expectations. The celebrations start at JOYIN!

PACKAGE CONTENT: This set contains 25 count 12x8x2.5 Inches bakery boxes. Auto-Popup means assembly is not required; simply unfold the box and it will pup-up into shape so you can pack your delicious treats.
TOP QUALITY: BakeLuv is all about quality… our bakery boxes are made from unbleached and totally chlorine free high specification food grade 350 GSM SBS cardboard; our containers are thick and sturdy ensuring your pastry is protected during display and transport.
MULTI-PURPOSE: These decorative cookie boxes / donut boxes are also ideal for brownies, muffins, cake, bakery, pastry, treats and more. They are also great as a takeaway boxes for bakeries, pastry shops, and cafes.
FOOD GRADE QUALITY:Our bakery boxes bulk set are made from high quality kraft paper; constructed of solid paperboard for a Durable and strong box, provides you with better support and storage for your delicious desserts and treats.
LOCK TAB DESIGN: Side and front folding tabs keep the box firmly closed and prevents lids from popping open during transit or over time.
WINDOW DESIGN:Our White Sturdy Dessert Boxes have a crystal-clear window on top; These pastry containers will showcase your delicious mini cupcakes, cookies, pies, chocolate brownies, donuts, truffles, biscuits or candy and will make your desserts even more irresistible.
EASY TO ASSEMBLE:The containers are shipped flat; and are pre-folded for easy assembly and sturdy construction.
6. Brand: CHOUNYEE
ECO-FRIENDLY – Manufactured using natural, bio-degradable food grade paperboard for food packaging. Securely designed to hold any cookies, pastries and treats to deliver a green packaging solution to businesses and individuals without sacrificing the function.
LEAK PROOF & CRIP DESIGN – With a crispy thick easy to assemble design, the bakery box holds its place, allowing you to store or transport. Store, keep your food fresh.
CUSTOMIZABLE – Providing you with an easy and customizable solution to your packaging needs. The pop-up designed boxes come with a clear window on top along with custom tags and 60-inch rope pieces to add a touch of personality to your unique packaging.

Size information:The size of each box is 3.74x3.74x3.74 inches/9.5x9.5x9.5 cm. Due to manual measurement, please allow minute size errors.
Material:The cookie box is made of high-quality kraft cardboard, which is not easy to break or deform, lightweight and reusable. Easy to fold, no adhesive is required.
Easy to use:Compared with another cake box, this one has a higher height and can hold some cakes with more layers.
Composes with the festival theme: These boxes are designed with skates, Christmas stockings, bells, snowflakes, elk, Christmas balls, Christmas trees,with Christmas as theme, can make your biscuits and cakes more festive.
SUPER VALUE SET: 24 pcs exquisite cookie boxes with window. the size of each box is 8 x 6 x 2.5 inches.
UNIQUE DESIGN: the box has a transparent window to display your delicious cookies, truffles, sweets, cupcakes, pastries, biscuits, etc. Making your gifts hard to resist.
STURDY MATERIALS: These bakery boxes are made of environmentally friendly food grade paper, and they are solid and durable.
EASY TO ASSEMBLE: The cookie box is flat and pre-folded for easy assembly. Easy to disassemble and store for later use.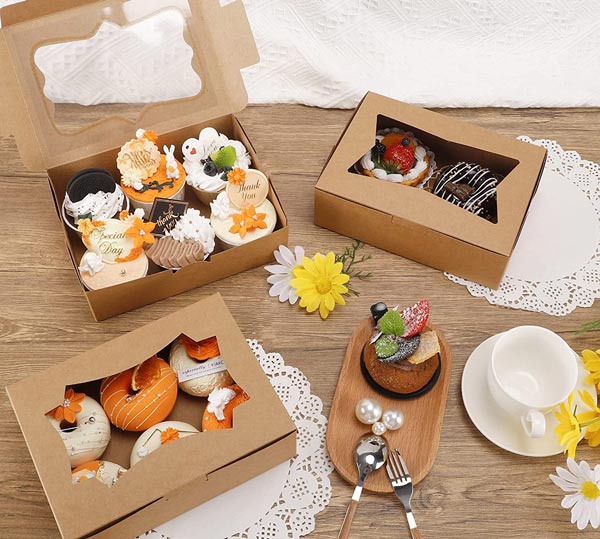 9. Brand: ETLT
Value Pack: 18 boxes and 18 parchment liners - Our innovative auto pop-up bakery box expands in seconds and is made of food-grade, high-quality, brown paperboard that is BPA-free and 100% recyclable.
Sturdy Floral Boxes: Unlike plain old bakery boxes, our durable pastry box makes a statement with its unique design that is sure to catch everyone's eye and help your desserts stand out.
Mess-Free: No more grease stained base! Our dessert box includes its own parchment liner for a flawless presentation and ensures optimal freshness of all your treats and chocolate covered strawberries.
Clear Viewing Window: Perfect for displaying your goodies at bake sales, bakeries, cafes, restaurants, delis, coffee shops, catering and parties or use them as a gift box for any occasion.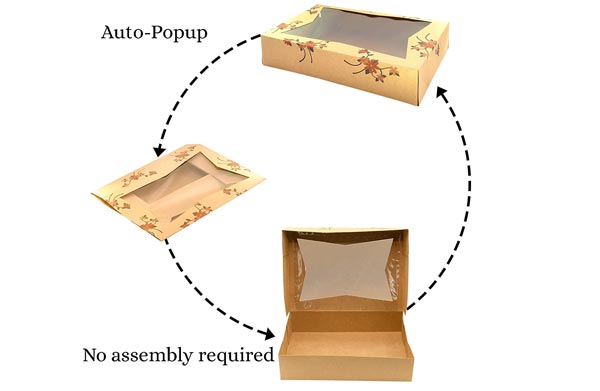 14 inches length x 10 inches width x 3 inches height, Total of 15 kraft boxes with window that are perfect in showcasing your sweet treats merchandise. Its size can be used for cakes, doughnut, candies, pastries, muffins, cupcakes, cookies and more!
This is an easy to set up box that has window to show-off your delicious pastries for fast visibility and identification. A sturdy high quality paperboard construction you can trust to hold and ensure your food and goodies' protection while on display and on transport.
These are auto-popup ready assembled box, simple to prepare, easy to store and will take up less space that makes it very convenient for any gathering and assembly An additional point for a quick and efficient service to your customers.
Made of food grade material that assures hygiene and safety. Box up your delectable delights cause we got you covered.

I believe there will be more donut box designs in 2022, and we will keep on the post with updates by then. Hope this would be little bit helpful to your choice.
Introduction of folding donuts paper box
Among the donuts paper box, there is one of them made in flat sheets with clear window. However, you may not know how to fold that. Below is the steps of folding a donuts paper box for reference. If still anything is not clear, please contact us for help.
We are a leading manufacturer of food grade packaging boxes, including donuts paper box. You can share with us your artwork file, or even an idea, we'd like to calculate the cost for your reference. Over 20 years' manufacture experience, and salesmen are professional to get a great solution for your project.