Amazon Top 10 Hot Selling Thank You Cards with Envelopes
Top 10 Hot Selling Thank You Cards with Envelopes on Amazon
Learning to express gratitude is essential for good relationships. However, we often struggle with how to properly express our gratitude. Of course, you can say it directly. But sometimes that may not be enough. A thank you card (or note) is a great way to express your gratitude. Nowadays, there are various options of Thank You Cards with Envelopes on Amazon, good price and fast delivery. Today we'd like to list top 10 hot selling thank you cards for your reference.
In this store, they have various thank you cards with envelopes. This one in the image below is floral thank you cards for your wedding, business, anniversary, greenery baby shower decorations, graduation and engagement, etc. In this pack, there are 48 thank you cards, and kraft paper envelopes.
BLANK ON THE INSIDE: Blank craft white stationary paper note cards for greeting and personalize gift with thank you stickers. Add handwritten personalized message on high quality paper to express your gratitude.
4.15 X 6.15 ENVELOPES: Brown craft paper envelopes and stickers 4x6 matching with bulk thank you cards.
48 BULK 4x6 CARDSTOCK: heavy weight 250 gsm card stock for elegance and extra sturdy, paper matte smooth surface and smudge free , 48 bulk set for all the year around greeting in hand.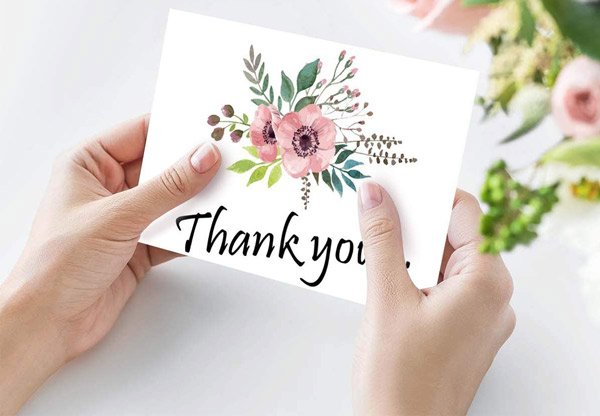 2. Juvale Store
Thank You Cards with Envelopes Set: This stationery bulk pack contains blue and gold gratitude note cards, 48 thank you notes and 48 corresponding white envelopes.
Blank Interior: These festive 4x6 thank you cards are blank on the inside; write a personalized thank you message, and tuck a meaningful photo inside to warm a loved one's heart.
6 Assorted Designs: This cute greeting cards boxed set features 6 assorted blue and gold polka dot and striped designs and decorative "thank you" text printed on the front cover.
Reliable Quality: Our small thank you notes measure 4 x 6 inches and are made from premium card stock paper; use pens or markers to decorate the smooth surface of the greeting cards.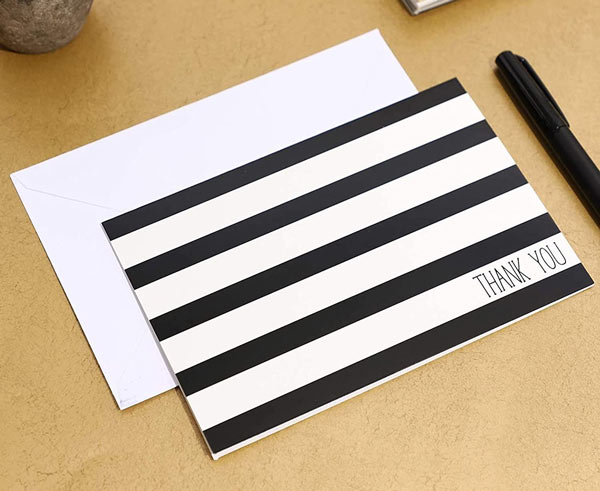 Hallmark Thank You Cards (Silver Foil Script, 40 Thank You Notes and Envelopes)
Boxed set of premium note cards makes saying thanks easier and more attractive than ever.
Includes 40 navy blue thank you cards with white envelopes. Cards are blank inside, leaving plenty of room for a handwritten, personalized note.
Blank thank you cards with silver foil calligraphy add an elegant touch to notes of appreciation for weddings, engagements, showers, professional uses, and more.
Thank you cards measure 5" x 4."
Printed on high quality paper stock, Hallmark's eco-friendly stationery is made with paper from well-managed forests.

100 Thank You Cards Bulk - Thank You Notes- Blank Note Cards with Envelopes - Perfect Business, Wedding Card, Bridal and Baby Shower Card - 4x6 Photo Size (Navy Blue)
Unique and Professional Thank You Cards with Envelopes in Bulk: Four classy Navy Blue and gold foil design greeting cards (assorted cards, 25 of each design). A heavyweight vellum finish provides stunning contrast to the gold debossing which subtly conveys professionalism and sincerity. Each card is blank inside with envelopes included. Check our variations for feminine and masculine thank you cards with envelopes.
Large Photo-Sized Thank You Cards Pack: These cards are sized just right for your photos and personal heartfelt notes of gratitude. Card is 4 1/2" x 6 1/4" and envelope is 4 3/4" x 6 1/2". Twice the size of small boxed thank you cards.
Celebrate Any Occasion: Whether you're a teacher, parent, bride, student, or manager, these blank note cards are a simple, personalized way to show your appreciation. Use these 4x6 thank you cards for a graduation, work, wedding, bridal shower, kid's birthday parties, boy or girl baby shower, baptism, bar mitzvah, funerals, or religious holidays. Or, simply use them as thank you money cards.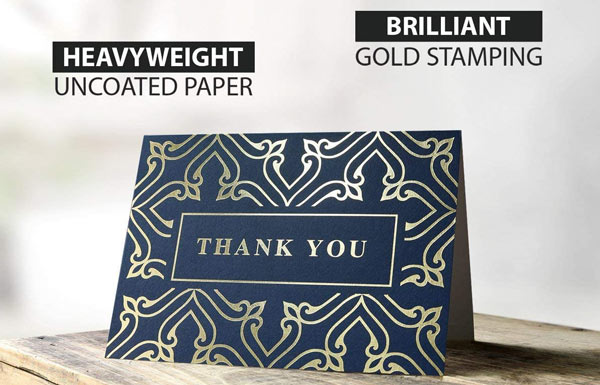 American Greetings Thank You Cards, Navy Blue with Brown Kraft-Style Envelopes (50-Count)
50 thank-you cards and 50 kraft envelopes
Outside Message: Thank You and Inside: Blank for your personal message
Cards measure 5.25 in. x 4 in. and fold open
This bulk thank-you greeting card package features white script on a navy background and kraft paper envelopes.
Perfect for writing thank-you messages for graduations, parties and showers.

Fresh & Lucky Thank You Cards Set - Pack of 40 with Yellow Envelopes, Greeting Card for All Occasions, Bridal/Baby Shower Gifts, Birthday, Wedding, Mother's Day, Water Colors Boho Floral Designs, 4X6
BRIGHT & FUN: Cheerful floral thank-you cards show your appreciation and bring a smile to your recipient's face. Blank inside for your personal, heartfelt note.
PERFECTLY SIZED: Just the right size at 5.75"L x 4.1"H to express your gratitude without having to fill up extra white space. Note cards are easy to write on with any pen type, including pencil.
ALWAYS HAVE ONE ON HAND: 5 assorted flower designs (8 of each design). Choose whichever fits the moment best. Bulk set of 40 folded cards in a clear plastic box.
SUITABLE FOR EVERYONE: Perfect for women, girls, teens, and kids alike. Use for special occasions or just to let someone know how much you appreciate them.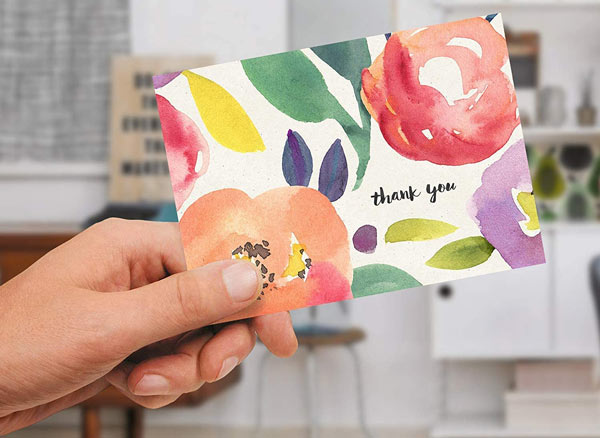 7. Ohuhu Store
Thank You Cards of Ohuhu, 36 Pack Brown Kraft Paper 6 Design of Assorted Thank U Greeting Note Card with Envelopes and Stickers for Wedding, Business, Birthday, Baby Shower, Blank Inside, 4 x 6 Inch
36 PACK OF 6 DIFFERENT DESIGNS + 36 ENVELOPES + 36 PCS THANK YOU STICKERS: Gratitude looks different to everybody. That's why we've designed them with different themes for different occasions; Also, 36 brown Kraft paper envelopes included, so you won't have to make two trips to the store. The 36 pieces stickers make your envelope more secure. No more dealing with icky glue sticks!
SUPERIOR QUALITY: Pen your well wishes on high-quality 250gsm high quality paper for elegance and extra durability.
CAN BE COLORED: These thank you greeting blank note cards are designed with beautiful patterns that can be colored easily, so color an unique thank you card to express your gratitude by heart.
FOLDED CARD, BLANK INSIDE: The blank canvas is the ultimate catalyst for creativity. Draw, scribble, sketch, with no lines to restrict you to express your best thanks.

8. Oaklyn Store
(48 pack) Thank You Cards Set with Envelopes - Professional paper with red yellow silver blue pink designs and blank white inside - Bulk pack of notes perfect for baby shower wedding birthday party
4" x 5.25" SIZE - The cards measure 4" x 5.25" when folded, which is the perfect size to slip into a purse or briefcase, leave on a desk, or send by mail. Regardless of how you get them there, these cards will leave a smile on the face of the recipient.
6 DIFFERENT FUN DESIGNS - Each pack includes 6 different designs with 8 cards per design for a total of 48 thank you cards. You will have plenty of options to use whether you are writing a note to a colleague, friend, or family member.
INCLUDES 48 ENVELOPES - Each pack includes 48 envelopes, one for each card in the pack. The envelopes are 120 gsm thick, which make them highly durable and reliable regardless if you are sending them in the mail or dropping them off personally.

Chalkboard Floral Thank You Cards, Designer Thank You Notes! Bulk Set of 48 Blank Cards with Envelopes. Baby Shower Thank You Cards Wedding, Bridal Shower Thank You Card or Teacher Card
A designer thank you: With 8 beautiful hand-drawn designs (6 of each), thick card stock imported from England, fun chalk board design and super-cute thank you stickers, there's no doubt that your thank you card will be cherished most. Say it like you mean it with designer chalkboard flowers from Baby Nest Designs
No bleed or smudge: Our notecards love all writing instruments - including ballpoint, watercolor, fine tip gel pens, special inks and pencil! they are blank note cards 300gsm card from Europe - black outside and crisp white inside. Not simply smudge-proof matte, but instead extra-absorbent, not seen on other cards
Designed in the USA: Each floral thank you card has been lovingly hand-drawn, in chalk by our USA artists, then transferred to card stock. While other blank greeting cards feature 5-6 designs, we've included 8 unique flower designs (6 of each). They're matte, realistic looking and ready for you for your thank u!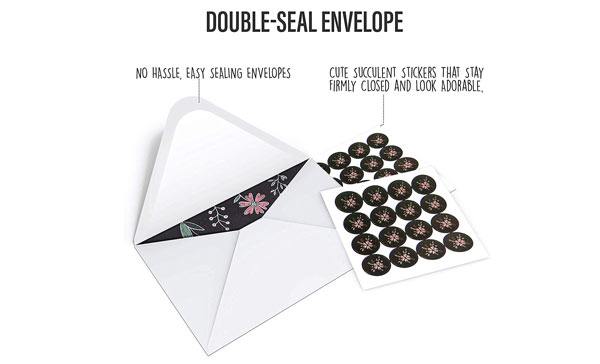 10. Best Paper Greetings Store
Best Paper Greetings 48 Thank You Notes with Brown Kraft Envelopes, Thank You Cards Set, Blank Inside, Handwritten Style for Baby Showers & Wedding
Blank Thank You Cards with Envelopes: Send warm wishes to your coworkers, friends, and family with this set of 48 blank thank you cards and 48 envelopes
Personalize Your Message: The white thank you cards have a sizeable amount of blank writing space to send warm thank you wishes for an upcoming birthday party, wedding, or baby shower
Assorted Designs: Our wedding thank you cards come in 6 assorted designs that feature minimalist Thank You designs font on the front cover
Reliable Quality: The blank thank you cards with envelopes are made from premium cardstock paper; the smooth surface allows you to use pens, markers, or pencils with ease
The Perfect Size: The baby shower thank you cards each measure 4 x 6 inches; perfectly sized to display on the fireplace mantle, refrigerator, or greeting card holder

Unico is a leading manufacturer in China to produce custom design printing thank you cards with envelopes. If you are looking for greeting thank you notes, please contact us. You can send us your design file or even an idea, we'd like to help finish the project for you with good quality.