How Can I Get a Custom Fridge Magnet
The traditional refrigerator sticker is mainly used to decorate the refrigerator, and it also has the function of making notes and reminders, recording the changes of food in the refrigerator and purchasing needs. You can also write down the things you need to tell your family members on a piece of paper and then stick them on the refrigerator so that the family members can easily notice. In our factory, it's possible for you to make custom fridge magnets with your own design graphic printing.
The role of refrigerator stickers
* As home decoration, you can decorate on the refrigerator, and can also be displayed in any place you like, such as desks, wine cabinets, and bar counters.
* The refrigerator magnet with built-in magnet does not affect the overall appearance, and can be vertically and horizontally attached to any household items that can be absorbed by the magnet.
* Store display, photography background, film and television props, three-dimensional menu, hobby collection...
* There are important matters. It is convenient for you to put a note in the refrigerator to remind you, and leave some warm quotes to your family, which is also very warm and romantic.
Is the fridge magnet harmful to the refrigerator?

Actually, don't worry. Many magnetic refrigerator magnets are made of soft glue magnets and coated paper color printing. The magnetism is very weak. It will not affect the normal operation of the refrigerator at all. In the same way, some people will worry about whether the magnetic refrigerator stickers will affect the operation of the refrigerator's LED lights. This is not to worry at all.
I also like the fridge magnetic memos, which are the kind with sticky notes. Because I personally love cooking, I always make some novel snacks and put them in the refrigerator. Then attach my warm message on the magnetic sticky note. This way the family can taste my delicious snacks as soon as they get home. This is something that makes me feel very happy.
Where can I get a custom fridge magnet?

With Unico here, you can make photo magnets suitable for various occasions as special gifts. Custom magnets can be glued to many different surfaces, and you know that your friends and family will be able to find a place for your gifts.
Magnetic stickers are more commonly used nowadays. Mainly divided into PVC soft glue refrigerator magnets and art paper printed refrigerator magnets. On the back, metal magnets or rubber soft magnets are generally attached. Refrigerator stickers are divided into two categories, one is magnetic stickers and the other is self-adhesive stickers. Magnetic stickers can be reused, while non-dry adhesive stickers are disposable. They are generally used for decoration. But it is also used to record the food stored in the refrigerator. There is also a reminder function. In short, there are many functions. In our factory, we are able to make the custom fridge magnets with your design graphic printing.
Classification of magnetic products
1) Magnetic refrigerator magnets: made of soft magnets underneath + color printed peritoneum on coated paper on the top.
2) Thermometer refrigerator sticker: using the soft magnet below + the four-color printing film on the top coated paper + the thermometer.
3) Magnetic bookmarks: made by folding soft magnets underneath (for magnetic attraction) + four-color printed peritoneum on coated paper on the top.
4) Magnetic message board Whiteboard: use soft magnet (or cardboard) + coated paper four-color printing film + erasable pen.
5) Magnetic frame: It is made of soft glue magnet mounted on coated paper with color printing peritoneum, and the frame is punched out in the middle. Or make double-layer photo frames, PVC photo frames, cardboard photo frames and other materials according to customer requirements.
6) Magnetic notepad: Use soft magnets underneath + four-color coated coated paper on top and mounted light film + notepads, or separate notepads, convenient notebooks.
7) Magnetic jigsaw puzzle (cardboard puzzle): Use soft magnets below (or cardboard gray board paper) + four-color printed light film on coated paper on top, and the puzzle pieces needed for the design are punched in the middle.
8) PVC soft glue refrigerator magnet: made of PVC soft glue dispensing pattern back mounted magnet
9) Tinplate refrigerator magnet: made of four-color printing wrapping paper technology + glue magnet.
10) EVA dart board: the bottom EVA + the middle iron sheet + the top coated paper four-color printing and mounting film + dart head.
11) Glass refrigerator stickers: made of soft magnets below + color printing on coated paper + semicircular glass window peritoneum
12) Epoxy refrigerator magnets: made of soft magnets below + color printing on coated paper + Epoxy peritoneum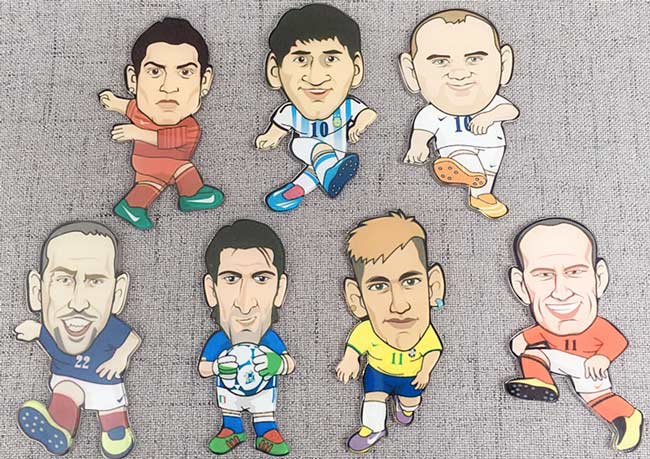 If you are looking for a manufacturer of custom fridge magnets, please feel free to get in touch with us. Our service team would reply to you on time with quotes.